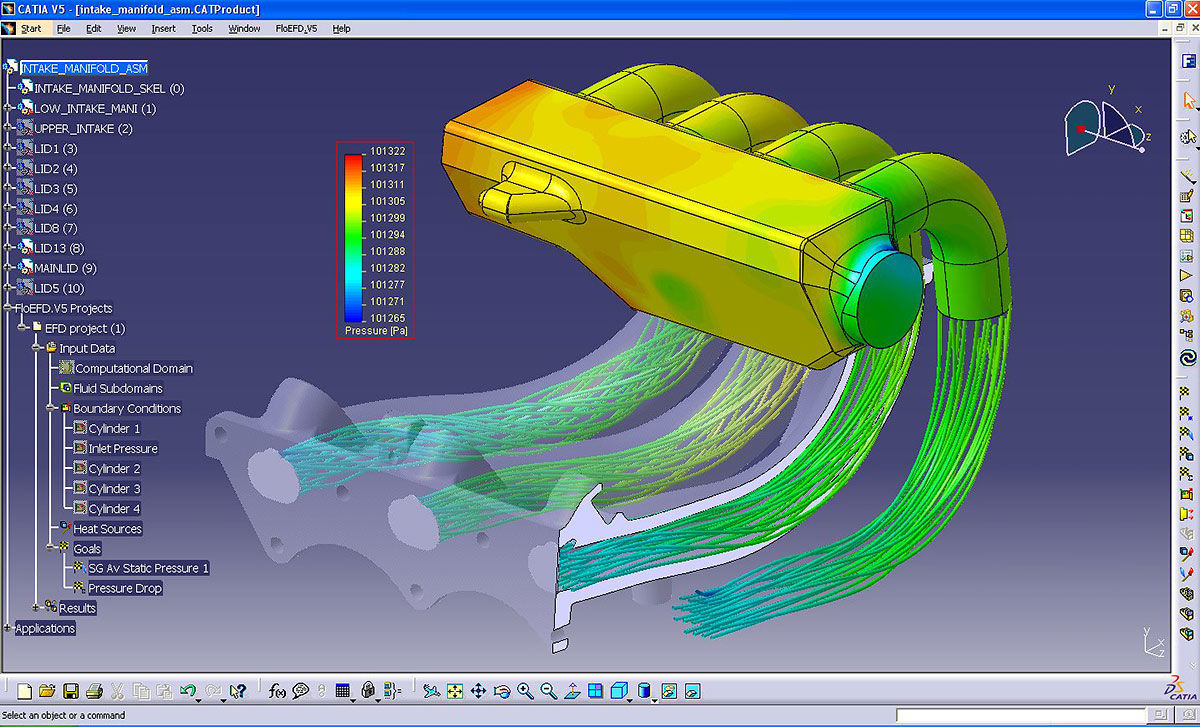 CATIA
Computer-Aided Three-dimensional Interactive Application (CATIA) is a multi-platform software suite for computer-aided design (CAD), computer-aided manufacturing (CAM), computer-aided engineering (CAE), PLM and 3D.
CATIA delivers the unique ability not only to model any product, but to do so in the context of its real-life behavior: design in the age of experience. It is used to design, simulate, analyze, and manufacture products in a variety of industries including aerospace, automotive, consumer goods, and industrials machinery, just to name a few.
SYLLABUS:
Introduction to CATIA
CATIA workbenches, Toolbars, Hot keys, Color Scheme
Drawing sketches
Sketcher workbench, Starting a new file, Invoking the Sketcher Workbench, Understanding sketcher terms, Drawing sketches using Sketcher tools, Drawing display tools, Other Sketching tools, Editing and Modifying Sketches,
Constraining sketches and creating base features
Constraining sketches, Concept, Applying geometrical constraints, Analyzing and deleting over-defined constraints, Existing the sketcher workbench, Creating base features by Extrusion, Dynamically rotating the view of the model, Modifying the view orientation, Display modes of the model, Creating sections dynamically, Assigning a material to the model
Reference elements and sketch-based features
Importance of sketching planes, Reference elements, Other sketch-based features
Creating dress-up and hole features
Advanced modelling tools
Editing features
Editing features of a model, Measuring elements
Transformation features and Advanced modelling
Transformation features, Working with additional bodies, Adding stiffeners to a model, Generating solid combine, Advanced modelling tools
Working with the wireframe and surface design workbench
Need of surface modelling, Wireframe and surface design workbench, Creating wireframe elements, Creating surfaces, Operations on shape geometry
Editing and modifying surfaces
Surface operations, Solidifying surface models.
Assembly modelling
Assembly modelling, Creating bottom-up assemblies, Creating top-down assemblies, Editing assemblies, Editing assemblies
Working with the drafting workbench
Drafting workbench, Types of views, Generating drawing views, Generated the exploded view, Working with interactive drafting in CATIA, Editing and Modifying drawing views, Modifying the hatch pattern of section views, Inserting sheets in the current file, Inserting the frame and the title block, Adding annotation to the drawing views, Editing annotations, Generating the Bill of Material(BOM)
Working with Sheet Metal Components
Sheet metal component, Setting sheet metal parameters, Introduction to sheet metal walls, Creating extrusions, Creating swept walls, Creating a bend, Bend from flat, Creating rolled walls, Folding and Unfolding sheet metal parts, Creating flat patterns of sheet metal components, Viewing a sheet metal component in multiple windows, Using views management, Stamping.